Dr. Helton is a 2015 graduate of the Chi Institute for Animal Acupuncture. Midtown Veterinary is the only clinic in Franklin County that is offers animal acupuncture. Akin to chiropractic care, acupuncture is not an alternative to regular veterinary care, but part of an integrative health plan.
WHAT IS ACUPUNCTURE?
By definition, acupuncture is the stimulation of a specific point on the body called "Shu-xu" or acupoint, with a specific method resulting in a therapeutic homeostatic effect. Ancient Chinese have discovered 173 acupoints in animals compared to the 361 acupoints found in humans. Modern research has shown that acupoints are located in the areas where high density of see nerve endings, mast cells, small arterioles and lymphatic vessels. Most acupoints are motor points. Stimulation of acupoints induces the release of beta-endorphin, serotonin an other neurotransmitters. Research has proven that acupuncture of pain relief is well supported.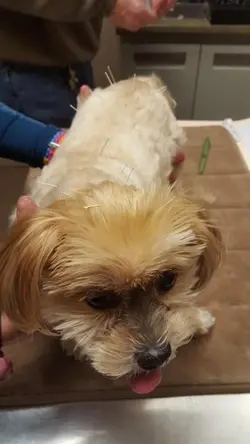 VITAL ENERGY OR QI
The Ancient Chinese discovered that the health of the body depends on the state of Qi(pronounced "chee"). Qi is the life force or vital energy. Qi has two opposite forms: Yin and Yang. As the flow of Qi is interrupted by a virus or bacteria, the balance of Yin an Yang will be lost, therefore a disease may occur. Pain is interpreted as the blockage of Qi flow. Through the stimulation of Acupuncture,this blockage is resolved and frees the flow of Qi, allowing the body to heal itself. Homeostasis occurs when Yin an Yang Qi are in balance.
ACUPUNCTURE FAQ
WHAT ARE THE METHODS AND GOALS OF ACUPUNCTURE?
Acupoints may be stimulated in a variety of ways. Techniques include dry needling, moxibustion, aqu-acupuncture and electro-acupunture. Whatever method is utilized the goal remains the same: to restore the flow of Qi
IS ACUPUNCTURE SAFE FOR MY PET?
Acupuncture is a very safe medical procedure when administered by a qualified practioner.
HOW LONG WILL MY PET'S SESSION TAKE?
Session time may vary depending on the need, typically 20 to 60 minutes.
HOW MANY TREATMENTS ARE NEEDED?
Depending on the nature, severity and duration of a disease your session could be a single treatment or a series of 3 to 10 treatments. Some degenerative conditions may require monthly treatments.
DOES ACUPUNCTURE HURT?
A proper acupuncture treatment may induce distention, an a heaviness sensation along with contraction of local muscle. Over 95% of patients are comfortable during acupuncture therapy. Due to the relaxation effect, some animals will fall asleep using their treatment.
Have more questions than what we have listed here, please check out this LINK
Navigation